Wow...it's been a week since I posted any layouts...so I have a few...
Tonight we had a HAPPY HOUR sketch challenge at
MEMORABLE SEASONS
-- Here is the sketch...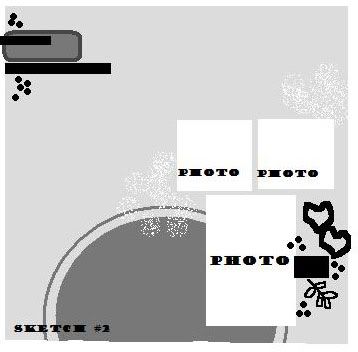 And the theme was to use Green or "go green" by using a recycled product... but I had forgotten that when I did my DT sample... so I did this first layout.
So last night I realized the theme and did another quick layout that used the theme... Green & Recycled... my recycled item was the cording from the buttons...it's cording from an old blouse.
So I also did this layout using the MONTHLY kit from MEMORABLE SEASONS...(this is my team from work).
Also this week at MEMORABLE SEASONS we are highlighting one of our "members"....and lifting one of their layouts from the gallery... I created this layout:
And...for our weekly Throwdown Challenge at MEMORABLE SEASONS, our challenge was 3+ photos, sanded edges of the photos and use a stamp... i used a ticket stamp for the title letters. This is a friends family that we spent some time with at a local Carnival a few weekends ago.
Thanks for stopping by!!